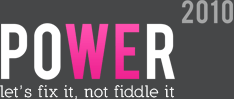 With only two weeks left to vote in the POWER 2010 campaign, the top ideas have already amassed considerable support, with the introduction of a proportional voting system expected to top the poll.
There is, however, an idea that has considerable advantages and breaks new ground in how we think about major decisions facing local and national governments. Before getting into an explanation of the merits of Deliberative polling, it's important to understand the background and aims of the Power 2010 campaign.
What is Power 2010?

The campaign is a truly diverse and mass discussion on the shape of British democracy. In just over 2 months it has received over 4,500 ideas from the public  to change how we do politics in this country.
The Power 2010 campaign explains itself as a means of giving "everyone the chance to have a say in how our democracy works for us":
We need a healthy democracy that works for all of us and not just a powerful few. POWER2010 exists to help create it. It gives you the chance to have your say on how our democracy works so that together we can change it for the better.

Do you want cleaner funding? Fairer voting? More accountability? You decide. Tell us your ideas for changing the way we run our country. Those with most support will become the POWER2010 Pledge and the focus for our national campaign at the next election.
The campaign has four phases:
Tell us your ideas

– The campaign sought ideas on democratic and political reforms people would most like to see from the next Parliament. This phase closed at midnight on Thursday 30th November with over 4,000 submissions received from people across the UK.

Deliberative Poll

– On the weekend of 9/10 January 2010, up to 130 citizens selected at random from across the UK and representative of the population as a whole, gathered in London for a two-day deliberative event.

The public vote

– The shortlist produced by the deliberative poll is currently being put to a public vote. This will last for five weeks until 22th February. The top five ideas will form the POWER2010 Pledge – "the backbone of our nationwide campaign for change at the next election".

Election campaign

– The aim is for as many people as possible to sign the POWER 2010 Pledge of reforms and then take it to the candidates in their areas for endorsement.
At the next election – expected in April – the campaign will work to "ensure every candidate commits to the reforms you most want to see as part of a nation-wide campaign to reinvigorate our democracy from the bottom up".
Voting is open for another two weeks, and the dozens of ideas have already received tens of thousands of votes.
Idea: Public consultation through a deliberative process
The idea I'm most enthusiastic about is that of Deliberative polling. The current process for government consultation, notwithstanding some admirable new online initiatives, is weak and lacks representative public participation. Along with this, Government can often disregard the majority view and there is no way of holding them to account.
The idea proposed suggests public consultations should no longer be a case of managed conversations between government officials and citizens. Rather, the public would participate in "deliberative" discussions amongst themselves. Through this, they would draw on impartial briefing materials and expert opinion to arrive at their own views through open discussion. Diverse groups, representative of the population affected, would gather at public meetings to inform themselves about the issues and engage with the experts and government representatives involved.
In order to understand fully the power and effectiveness of such Deliberative polling exercises, I've outlined two recent examples of the process in action.
Deliberative poll (London, UK – Renewing British Democracy)
The POWER2010 campaign kicked off in early January with a Deliberative Poll in central London. Over 130 participants of all backgrounds and walks of life, were brought together to discuss proposals for democratic reform submitted by members of the public (phase 2 above).
The participants were representative of the population as a whole, and received balanced briefing materials detailing each of the reform ideas, with arguments for and against along with axillary background information. They deliberated in small groups with trained moderators and engaged in plenary sessions with experts. Participants' opinions were gathered through confidential questionnaires before and after deliberations.
Together, by talking through the issues and cross-examining experts from across the spectrum of opinion, participants assembled a shortlist of reforms which they think can bring democracy back to the people.
Some of the comments from participants at the event illustrate the power of constructive debate amongst a diverse range of people:
"it has been good to meet people that don't think like me, have completely different views, but then find out why"

"it's quite a good learning process for me. I don't think I knew an awful lot about politics and the processes, and I'm learning a lot here today…It has fired me up to find out more about the political process and perhaps I'll be attending my local MP's surgeries and raising a few more questions. "

"In a few instances, I've.. been reformed to a different way of thinking"
While some of the participants were cynical about politicians, they were passionate about making government more democratic. During the event support for a more proportional system, rose from 48% to 53% and is now leading the list of reforms in the public vote.
Deliberative poll (Michigan, US – Solutions for Michigan's problems)
Last month, Michigan public television stations broadcast "Hard Times, Hard Choices", a special report on a  statewide citizens' deliberation. Michigan is facing severe economic problems with rising unemployment and severe budget cutbacks due to the recession and its declining manufacturing base.
Over the weekend of November 13 – 15, 317 Michigan citizens traveled to Lansing to discuss and debate the state's problems and what to do about them. The participants were a scientific random sample of people, representative of the population in age, education and political persuasion. Upon arrival the participants filled out a questionnaire to determine what preconceived notions and opinions each held on a wide variety of issues directly related to Michigan's problems and any their views on possible solutions.
As with the Power 2010 event, the participants received background material in advance, debated the issues in small groups and then put their questions to a panel of experts.
The entire process was filmed by PBS to form the documentary below.
Michigan Citizens Deliberate: Part One
Delegates are introduced to the concept of Deliberative polling and discuss jobs and education in Michigan.
Michigan Citizens Deliberate: Part Two Delegates discuss the budget shortfall and the state's options for taxing and spending.
Michigan Citizens Deliberate: Part Three
Delegates discuss Michigan's future and the hard economic choices ahead.
The knowledge the participants gleaned over the weekend alone was enough to spur many to a new activism and sense of purpose:
Carol Selden (Spring Arbor): "I need to become more of an informed citizen, and when I'm informed then I'll be able to the ideas the legislators need to have to make good choices for us"

Michael Petross (Detroit): "In this group I've listened to other people's opinions and I've changed some of my opinions."
Results of Michigan's first Deliberative Poll show what the people of the state would think if they could all become more informed, and had opportunities to discuss the issues in depth within diverse groups. When participants filled out the same questionnaire on the final day of the deliberative poll the results, showed a dramatic swing in attitudes and opinions in several major areas:
Respondents were much more willing to support increases in the state income tax and sales tax to eliminate cuts in education and some other social services.
Respondents were persuaded that cutting both the Michigan Business Tax and reducing small business taxes were among the best ways to attract and keep businesses, thereby creating jobs.
Support for increased investment in a "green economy", agriculture, and tourism also went up significantly during the weekend, as did support for a high-tech, knowledge-based economy.
Summary
The resulting changes of opinion in both Deliberative poll examples offer some dramatic recommendations for both policymakers and the public. These events increase public understanding of complex issues, and demonstrate the large difference between people's uninformed and informed views (witness the comments and changes in support for issues following both Deliberative polls).
Stephen Whitehead, of the new economics foundation, outlines the benefits of the idea succinctly:
Deliberation – getting together and talking about issues – is a powerful tool to produce wise, well-informed decisions. Whilst critics of citizen involvement worry that the public will produce reactionary, conservative or discriminatory decisions, evidence suggests that talking through issues with people from different backgrounds moves people to views which are generous, tolerant and sometimes even imaginative.

Deliberation offers an alternative to the tiresome tug-of-war between proponents of representative and direct democracy. Rather than trusting in political elites to make decisions on our behalf on the basis of a tenuous mandate, or investing power in populist schemes like referenda which can be vulnerable to kneejerk reactions, deliberative democracy aims to create the conditions where the public can bring their wisdom, experience and empathy to decision-making.
So let me join with Stephen, and nearly 600 others, in recommending you to vote for deliberative polling as a means of "putting political power back into the hands of the people best qualified to use it – all of us."
Further reading

For more on Deliberative polling check:
For details on new ideas from the University of Michigan – (as mentioned in the PBS documentary) – check 1000 pitches.